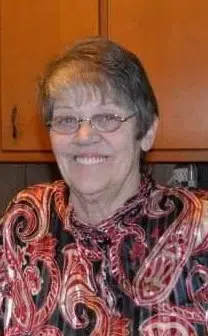 Janice Lynn Drum, 70, of Greenup, IL passed away at 8:05 PM on October 23, 2018 at the Cumberland Rehab and Health Care in Greenup, IL.
Memorial services will be at 11:00 AM on Saturday November 3, 2018 at the Calvary Tabernacle United Pentecostal Church in Toledo, IL. Visitation will be held one hour before services. Burial will be in the Toledo Cemetery at a later date. The Barkley Funeral Chapel is assisting with arrangements.
Jan was born on March 24, 1948 in Belvidere, IL to Robert & Lorraine (Labo) Burton. She married Greg Drum on June 4, 1977 and he preceded her in 2009. Surviving is her daughter Leann (Jeff) Seeley; grandchildren Zachary (Britnay) Briggs, Ashley Sowers and Jayson (Katelynn) Sowers; great grandchildren Caleb Sowers and Mylah Briggs; Sister Cindy Wicke; Brothers Tom Burton, Craig Burton and Jon Burton. She was preceded in death by her parents and her son Ron "Tiger" Sawallish.
Jan worked at Cumberland Rehab Health Care in Greenup and Pyroferric in Toledo for many years. She was member of the Calvary Tabernacle UPC in Toledo.
Memorials can be made to the Barkley Funeral Chapel Box 381 Greenup, IL. 62428 to help the family with expenses. Online condolences can be expressed at www.barkleyfuneralchapels.com