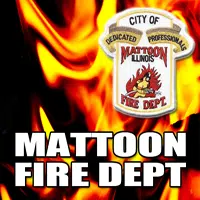 For Immediate Release
The Mattoon Fire Department responded to a working structure fire located at 1313 Lakeland Boulevard on Monday, November 19, 2018, at 2250 hours. Upon arrival, fire crews reported smoke and flame showing inside the apartment and requested a box alarm assignment.
Fire crews worked to extinguish this fire, conduct searches of multiple apartments. The fire was contained to the apartment of origin. Smoke and fire damage was noted throughout the apartment with smoke occupying the other apartments and attic area. All apartments were vacant at this time.
The origin and cause of the fire is still being investigated.
The Mattoon Fire Department was assisted at the scene by the Charleston Fire Department, Mattoon Police Department, Ameren Gas and Electric.  Fire department personnel cleared the scene at 2353 hours.
The Mattoon Fire Department reminds all citizens to keep combustible items at least three feet away from heat generating appliances. Also make sure you maintain a working smoke alarm and practice a home escape plan.