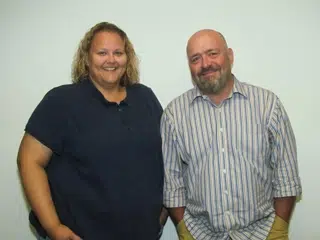 The Yawn Patrol with Bub McCullough and Renee Fonner
Weekdays, 6am-10am
They met at Lake Land College when Bub convinced Renee to change majors from Elementary Education to Radio/TV during a Comp class.
Bub has been the co-host of the Yawn Patrol since 1990.  He was one of the first employees hired by WMCI in 1989 – he even helped put the tower up.  It was the last thing he has done that required manual labor.  Bub is the Program Director for WMCI and involved with Big Brothers Big Sisters, PADS, the Windsor Harvest Picnic and Lincoln Heritage Chapter of Pheasants Forever.
Radio has taken Renee to Virginia Beach, Fort Myers, Nashville and Kansas City.  Her son Keagan, brought her home to Hindsboro.  She oversees promotions for WMCI.  Renee co- chairs the Mattoon to Peoria St. Jude Run, chairs One Stop Community Christmas and sits on the Country Cares for St. Jude Kids National Advisory Board.