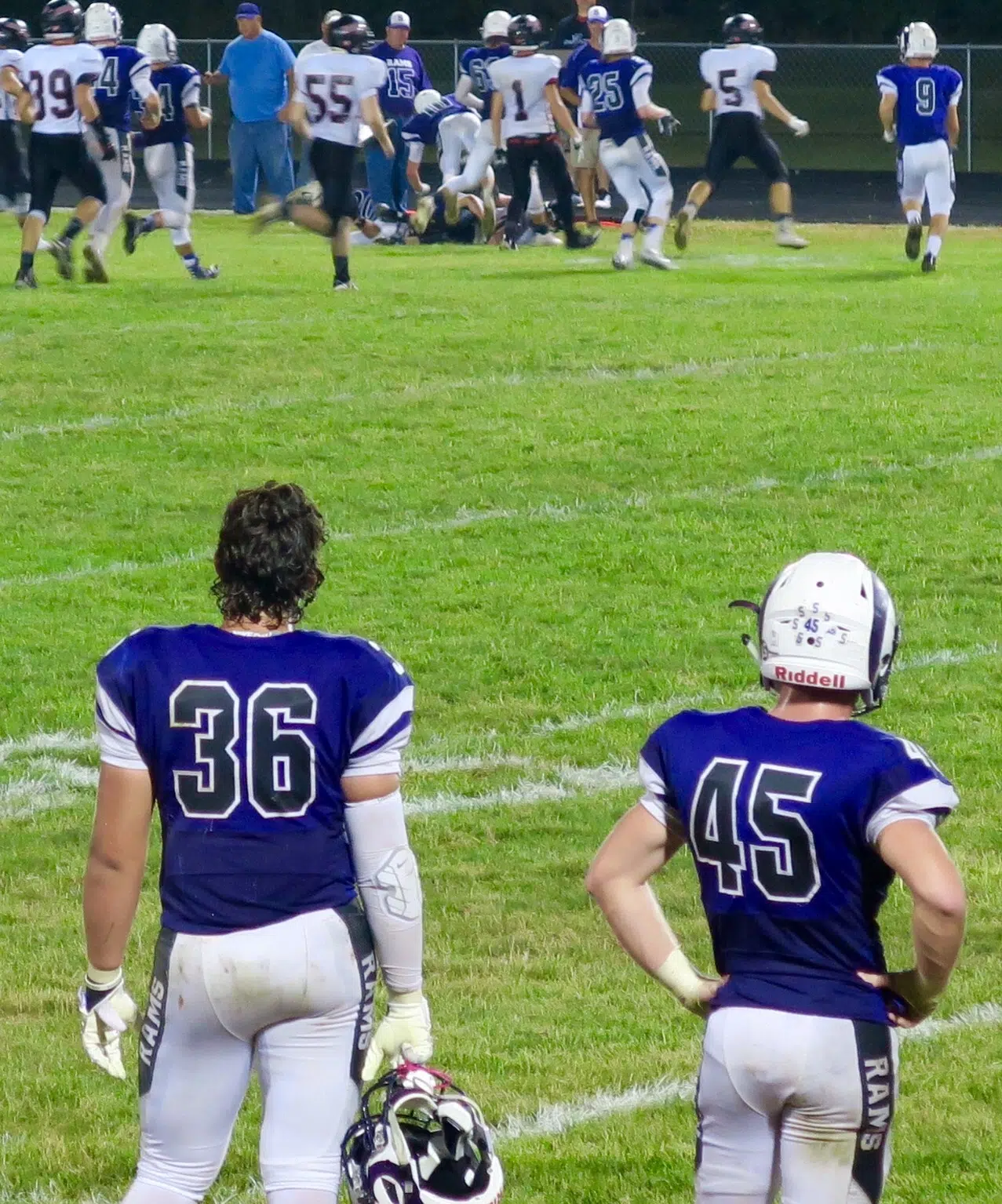 Shelbyville Rams defeated Sullivan – Okaw Valley Redskins at their home non-conference game 62 to 20. The Game opened with both teams successfully holding each other off from scoring for the first five minutes of the game. The game was then delayed due to severe weather. After being delayed for 30 minutes the game successfully resumed without any interruptions.
In the continuation of the first quarter Shelbyville successfully scored early with a touchdown and a two point conversion leading the game 8 to 0 against Sullivan. Sullivan now with possession, attempted to hold off Shelbyville to score but was unsuccessful. Shelbyville with possession again would then successfully hold up against Sullivan leading then Shelbyville toward their second touchdown and two point conversion of the night making the score Shelbyville leading 16 to 0 against Sullivan. It would not be until the end of the first quarter where Sullivan would successfully show off their passing game allowing them to successfully score against Shelbyville. By the end of the first quarter the score was Shelbyville leading 16 to 8 against Sullivan.
The second quarter showed both teams using their passing abilities as a way to drive their team up the field and gain not only yards but also points. In the midst of the passing game between both teams was also a high amount of penalties on both sides ranging from personal fouls to false starts and various other penalties. These penalties would continue throughout the game consistently. Heading into the second quarter Shelbyville lead 32 to 20 against Sullivan.
The second half of the game Shelbyville changed their strategy in terms of their defense. Many of the points earned by Sullivan in the previous quarter were due to their successful passing game by their offense. Shelbyville in the second half managed to prevent Sullivan from having such a successful passing game by focusing more attention and pressure on Sullivan's wide receivers. This pressure resulted in Shelbyville heading into the final quarter, leading 40 to 20 against Sullivan.
In the final quarter Shelbyville successfully held off Sullivan from scoring any further points. In the process of doing so Shelbyville managed to score 22 more points by the end of the quarter ending the game with Shelbyville defeating Sullivan 62 to 20.