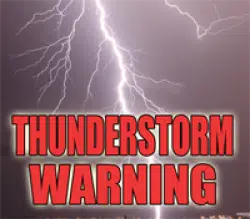 The National Weather service in Lincoln has issued a severe thunderstorm warning for Northern Jasper County and Central Effingham County until 9:30 PM.
At 8:24 PM a severe thunderstorm was located near Altamont and moving east at 35 mph. The storm could produce quarter size hail, strong winds, lightning and cause damage to vehicles.
Locations impacted include: Effingham, Altamont,  Newton, Teutopolis, Dieterich, Willow Hill, Montrose, Wheeler, Hidalgo, Hunt City, Yale, Rose Hill, and Effingham County Airport and Reservoir. In addition to Interstates 75 and 70. For safety precautions move into an interior room on the lowest floor of a building.