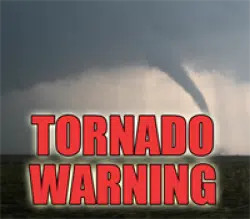 THE NATIONAL WEATHER SERVICE IN LINCOLN HAS ISSUED A

* TORNADO WARNING FOR...
  SOUTHEASTERN LOGAN COUNTY IN CENTRAL ILLINOIS...
  NORTHEASTERN SANGAMON COUNTY IN CENTRAL ILLINOIS...
  NORTHWESTERN MACON COUNTY IN CENTRAL ILLINOIS...
  NORTH CENTRAL CHRISTIAN COUNTY IN CENTRAL ILLINOIS...

* UNTIL 545 PM CDT

* AT 509 PM CDT...SEVERE THUNDERSTORMS CAPABLE OF PRODUCING BOTH
  TORNADOES AND EXTENSIVE STRAIGHT LINE WIND DAMAGE WERE LOCATED
  ALONG A LINE EXTENDING FROM NEAR CORNLAND TO NEAR ROCHESTER...
  MOVING EAST AT 45 MPH.

  HAZARD...TORNADO.

  SOURCE...RADAR INDICATED ROTATION. STORM SPOTTERS ALSO REPORTED A
           BRIEF BUT WEAK TORNADO TOUCHDOWN NEAR WILLIAMSVILLE
           SHORTLY AFTER 5 PM. WIND GUSTS OF 48 MPH WERE ALSO
           REPORTED AT CAPITAL AIRPORT AT 458 PM.

  IMPACT...EXPECT DAMAGE TO MOBILE HOMES...ROOFS...AND VEHICLES.

* THESE DANGEROUS STORMS WILL BE NEAR...
  MOUNT PULASKI AROUND 515 PM CDT.
  ILLIOPOLIS AROUND 520 PM CDT.
  NIANTIC AND LATHAM AROUND 525 PM CDT.
  MOUNT AUBURN AROUND 530 PM CDT.

OTHER LOCATIONS IMPACTED BY THESE TORNADIC STORMS INCLUDE DAWSON...
ROBY AND BUFFALO.

THIS INCLUDES INTERSTATE 72 BETWEEN MILE MARKERS 108 AND 126.

PRECAUTIONARY/PREPAREDNESS ACTIONS...

TAKE COVER NOW! MOVE TO A BASEMENT OR AN INTERIOR ROOM ON THE LOWEST
FLOOR OF A STURDY BUILDING. AVOID WINDOWS. IF YOU ARE OUTDOORS...IN A
MOBILE HOME...OR IN A VEHICLE...MOVE TO THE CLOSEST SUBSTANTIAL
SHELTER AND PROTECT YOURSELF FROM FLYING DEBRIS.

TO REPORT SEVERE WEATHER CONTACT YOUR NEAREST LAW ENFORCEMENT AGENCY.
THEY WILL SEND YOUR REPORT TO THE NATIONAL WEATHER SERVICE OFFICE IN
LINCOLN.