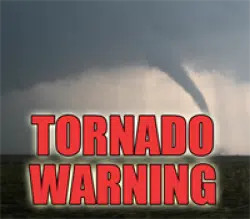 THE NATIONAL WEATHER SERVICE IN LINCOLN HAS ISSUED A
* TORNADO WARNING FOR…
SOUTHERN PIATT COUNTY IN CENTRAL ILLINOIS…
NORTHWESTERN MOULTRIE COUNTY IN CENTRAL ILLINOIS…
SOUTHEASTERN MACON COUNTY IN CENTRAL ILLINOIS…
NORTHWESTERN SHELBY COUNTY IN CENTRAL ILLINOIS…
* UNTIL 630 PM CDT
* AT 558 PM CDT…SEVERE THUNDERSTORMS CAPABLE OF PRODUCING BOTH
BRIEF TORNADOES AND STRAIGHT LINE WIND DAMAGE WERE LOCATED ALONG A
LINE EXTENDING FROM NEAR MONTICELLO TO DALTON CITY TO NEAR
ASSUMPTION…MOVING EAST AT 20 MPH. SMALL CIRCULATIONS WERE
OBSERVED JUST NORTH OF DALTON CITY AND ABOUT 3 MILES SOUTHEAST OF
CISCO.
HAZARD…TORNADO.
SOURCE…RADAR INDICATED ROTATION.
IMPACT…EXPECT DAMAGE TO MOBILE HOMES…ROOFS…AND VEHICLES.
* THESE DANGEROUS STORMS WILL BE NEAR…
MONTICELLO AROUND 610 PM CDT.
BETHANY AROUND 615 PM CDT.
BEMENT AROUND 620 PM CDT.
LOVINGTON AROUND 630 PM CDT.
OTHER LOCATIONS IMPACTED BY THESE TORNADIC STORMS INCLUDE MILMINE…
LA PLACE…LAKE CITY AND HERVEY CITY.
THIS INCLUDES INTERSTATE 72 BETWEEN MILE MARKERS 159 AND 166.
PRECAUTIONARY/PREPAREDNESS ACTIONS…
TAKE COVER NOW! MOVE TO A BASEMENT OR AN INTERIOR ROOM ON THE LOWEST
FLOOR OF A STURDY BUILDING. AVOID WINDOWS. IF YOU ARE OUTDOORS…IN A
MOBILE HOME…OR IN A VEHICLE…MOVE TO THE CLOSEST SUBSTANTIAL
SHELTER AND PROTECT YOURSELF FROM FLYING DEBRIS.