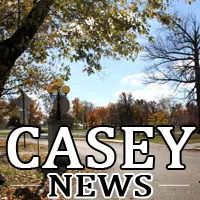 Kids get the opportunity to mail letters to Santa from the largest mailbox in the world Saturday in Casey.
Mailbox (and other Casey attraction) creator Jim Bolin tells WTHI-TV  children could "address it to the North Pole or Santa." He says Postal Service officials make sure it gets sent to ol' Saint Nick.
Candy Canes on Main happens Saturday until 4:00 pm.
(WTHI-TV)