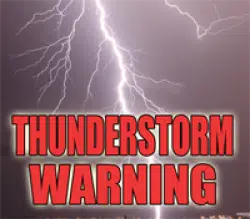 The National Weather Service in St. Louis has issued a Severe Thunderstorm Warning for Northern Fayette County until 6:45 p.m. CST.
The storm is capable of producing 60 mph winds and quarter sized hail. Hail damage to vehicles is expected, as well as wind damage to roofs, siding, and trees.
For protection it is best to move to an interior room on the lowest floor of a building.
A Tornado WATCH, remains in effect until 9:00 p.m for Fayette County as well.