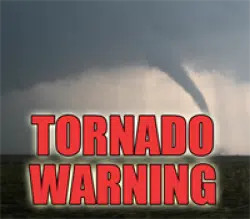 The National Weather Service in Lincoln has issued a Severe Tornado Warning for Richland and Southeastern Clay County until 9:15 p.m. CST.
At 8:34 a Severe Thunderstorm capable of producing a tornado was located over Schnell, 10 miles south of Olney, moving east at 35 mph.
Impact includes: Flying debris, damage to roofs, windows, and vehicles. Tree damage is likely. It's expected to reach Olney and Calhoun around 8:55 P.M. CST.
Take cover now! Move to a basement, or the lowest level of a sturdy building. Avoid windows.