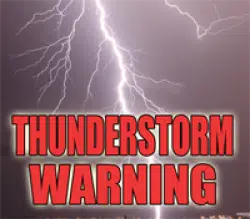 The National Weather Service in Lincoln has issued a Severe Thunderstorm Warning for Charleston, Mattoon, Toledo, Greenup, Oakland, Newman, Ashmore, Camargo, Hindsboro, Lerna, Janesville, Rardin, Hutton, Murdock, Fairgrange, Fox Ridge State Park, Union Center, Bushton and Coles
County Airport. until 2:45 A.M.
At 2:18 AM CST, severe thunderstorms were located along a line extending from near Homer to Janesville, moving east at 65 mph.
These storms are capable of producing 60 mph winds. Expect wind damage to roofs, sidings, and trees.
For protection it is best to move to an interior room on the lowest floor of a building.