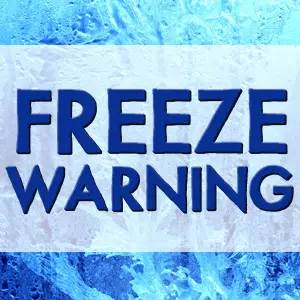 A freeze warning will be in effect from 1:00 a.m. to 9:00 a.m. tomorrow, April 16th for Cumberland, Clark, Effingham, Fayette, Jasper, Crawford, Clay, Richland, and Lawrence Counties.
Freezing conditions may damage or kill sensitive plants and trees, if left unprotected.
UPDATE: The following counties are now effected: Knox-Stark-Peoria-Marshall-Woodford-Fulton-Tazewell-McLean-
Schuyler-Mason-Logan-De Witt-Piatt-Champaign-Vermilion-Cass-
Menard-Scott-Morgan-Sangamon-Christian-Macon-Moultrie-Douglas-
Coles-Edgar-Shelby-
Unseasonably cool weather will occur across central Illinois
early this week. Both tonight and Monday night, low temperatures
will fall into the 20s, coldest in areas from about Bloomington to
Galesburg.
While the growing season has not begun in earnest in central
Illinois, some planting of gardens has taken place due to the
recent warm spell. If you have planted sensitive vegetation, take
precautions to protect it the next couple nights, as these cold
temperatures could kill it.