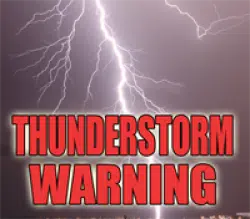 The National Weather Service in Lincoln has issued a Severe Thunderstorm Warning for Central Douglas County until 9:15 p.m. CDT.
The storm is reported to be moving east at 30 mph. Storms could produce up to 60 mph wind gusts and quarter size hail. Locations impacted include Tuscola, Villa Grove, Newman, Camargo, Bourbon, and Murdock, as well as I-57 between mile markers 207 & 216.
Damage could include hail damage to vehicles & trees. Winds could damage mobile homes, roofs and outbuildings. For your protection move to an interior room on the lowest floor of a building.