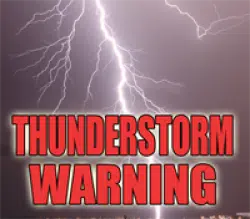 The National Weather Service in Lincoln has issued a Severe Thunderstorm Warning for Southwestern Vermilion County and Southern Champaign County until 8:15 p.m. CDT.
The storm is reported to be moving east at 40 mph. Storms could produce up to 70 mph wind gusts and half dollar size hail. Locations impacted include Champaign, Urbana, Savoy, St. Joseph, Tolono, & Oakwood as well as I-57 between mile markers 226 & 230, as well as markers 244 and 245. & I-74 between mile markers 182 and 211.
Damage could include hail damage to vehicles & trees. Winds could damage mobile homes, roofs and outbuildings. For your protection move to an interior room on the lowest floor of a building.