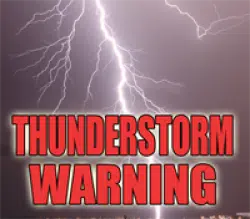 The National Weather Service in Lincoln has issued a Severe Thunderstorm Warning for the following counties until 8:15 p.m. CDT:
Jasper County and Southeastern Effingham County
At 7:25 p.m. a severe thunderstorm was located over Dieterich moving southeast at 25 mph. Strom is capable of producing 60 mph winds gust and quarter sized hail. Hail damage to vehicles is expected and wind damage to roofs, siding and trees.
Locations impacted include:
Newton, Dieterich, Ste. Marie, Willow Hill, Wheeler, Hidalgo, Bogota, West Liberty, Hunt City, Yale, Rose Hill, Newton Lake, Sam Parr State Park, Gila, Elliotstown and Latona.
For your protection move to an interior room on the lowest floor of a building. Torrential rainfall is occurring with this storm, and may lead to flash flooding. Do not drive your vehicle through flooded roadways.