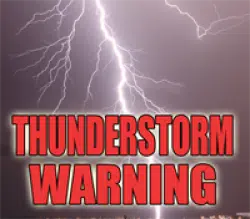 The National Weather Service in Lincoln has issued a Severe Thunderstorm Warning for the following: Southeastern Shelby County and Effingham County until 6:45 p.m. Thursday, June 28th.
This storm is moving southeast at 50 mph, capable of producing 70 mph wind gusts. Tree damage is possible, as well as damage to mobile homes, roofs and outbuildings.
Locations impacted: Effingham, Altamont, Teutopolis, Windsor, Stewardson, Dieterich, Beecher City, Edgewood, Montrose, Strasburg, and Sigel. As well as I-57 between mile markers 143 and 172 as well as I-70 between mile markers 79 and 104.
For safety move to an interior room on the lowest floor of a building.